Smart Contracts for Social Good: Unlocking Blockchain's Potential Beyond Finance
VMware and Digital Asset have teamed up for the Odyssey hackathon to tackle two major Sustainable Development Goals: Plastic Pollution to Upcycling Economy and Consumer and Organization Driven Decarbonization. Contact us at community@digitalasset.com to be notified of how to participate.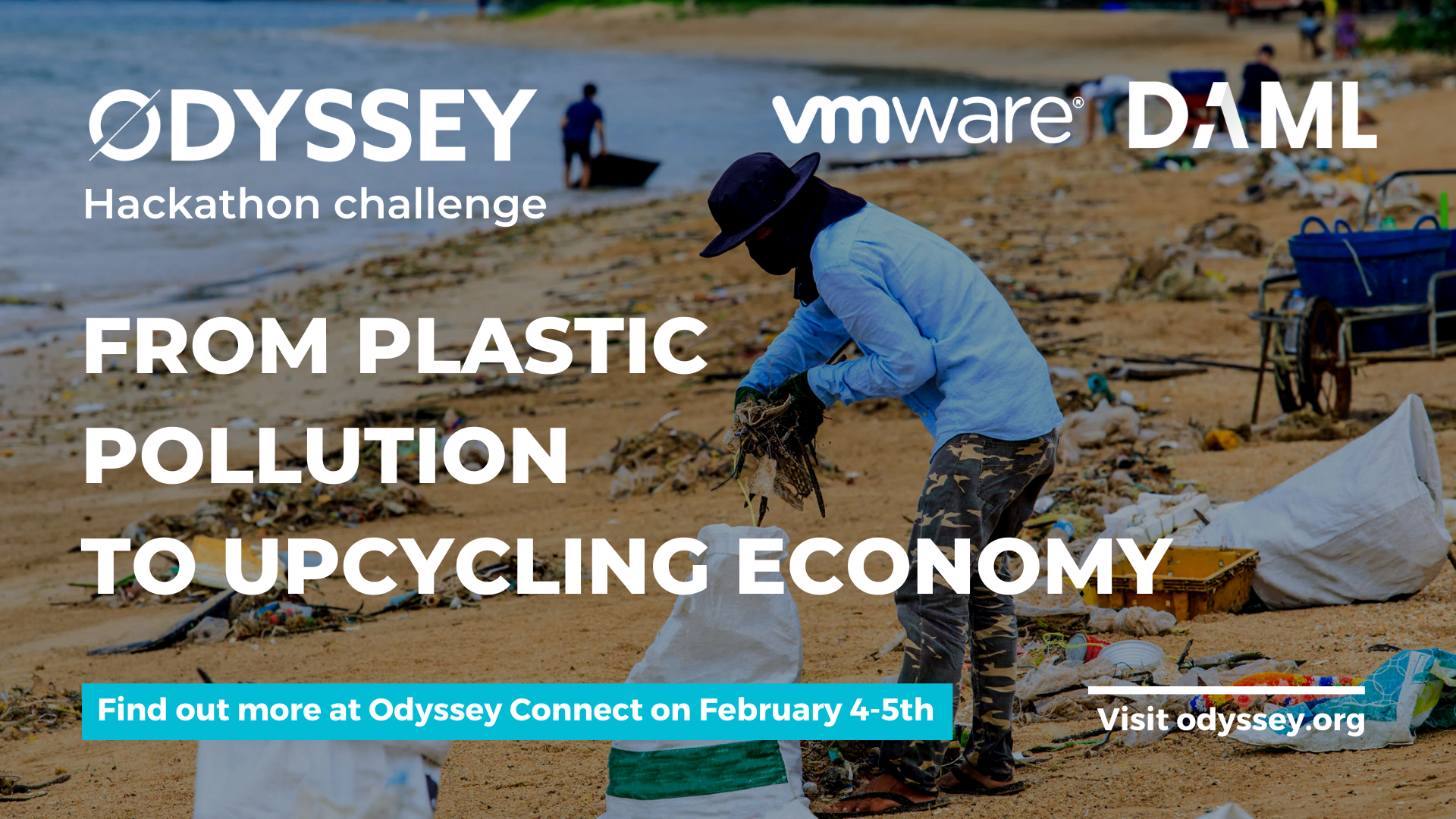 Background
Having been exposed to the complex matrix of functions and systems as a product development manager at a bank, I was inspired by the thought leadership and ambition of Digital Asset (DA). From the onset, I knew that the team at DA was onto something revolutionary and I wanted to be a part of it.
When DA was founded in 2014, the team was focused on how to apply blockchain technology to make the world's markets operate more efficiently and productively. While our initial focus was on certain financial use cases, as an organization we always knew that our technology would be applied to support individuals and companies in building better and more inclusive global businesses.
Nearly five years later, we can count many projects among our successes in bringing the original goal to life such as reimagining the way securities are cleared and settled with the Australian Securities Exchange (ASX), partnering with Broadridge to change the way repo trading and its associated collateral is executed and processed, and redefining market standards across the derivatives industry with the International Swaps and Derivatives Association (ISDA).
Throughout my career, I've led teams in delivering software that empowers operations and business users to focus on value added functions. At DA, I've had the unique privilege of applying my knowledge of the operationally and technically complex world of finance to other industries that face similar operational hurdles, such as healthcare and energy. Using the capabilities of blockchain, we can unlock opportunities that we couldn't have imagined only a few years ago.
Smart Contracts
As we enter 2020, I'm excited to see Digital Asset continue to focus on helping companies and development teams spend less time on non-value added services by using Daml, the smart contract language created by Digital Asset. For an industry like healthcare, this means continuing to focus on projects related to how insurance companies process claims more efficiently. By implementing a smart contract solution for claims processing, not only will healthcare providers get paid faster but patients will have more transparency upfront into the cost of their treatment.
The positive effects of using smart contracts and blockchain technology only continue to apply and evolve to industries such as finance and healthcare as the barriers to adoption decrease. We've seen partners in the logistics and transport industry rapidly develop applications to more easily track and trace products throughout the supply chain lifecycle with DAML-driven applications. And, perhaps even more importantly, we are seeing businesses not only build better and more technologically sound applications, but we are seeing partners and customers leverage their expertise in using DAML to develop net new products and services.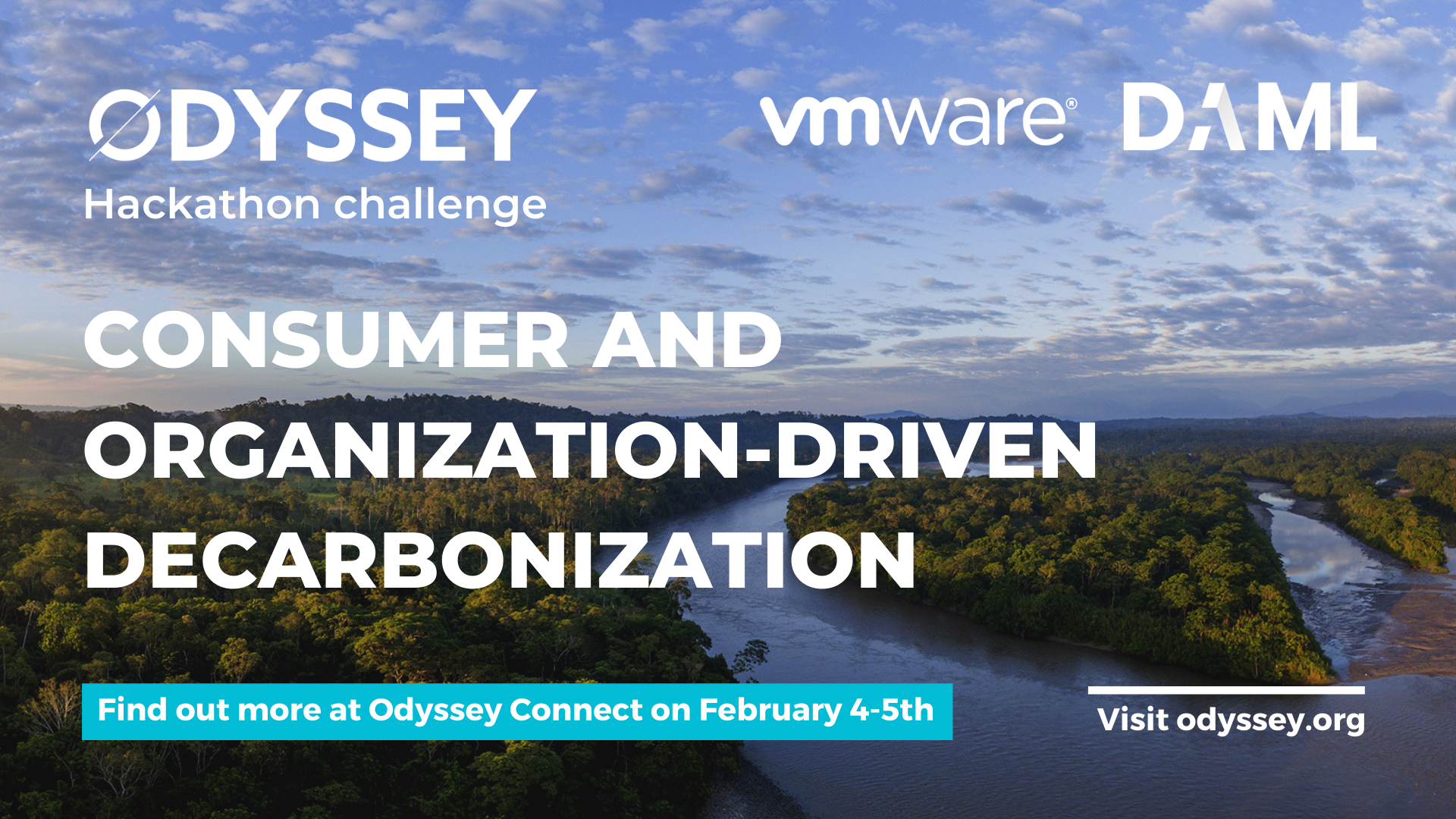 Outcompeting Destructive Systems
But we think there's even more we can do with DAML to support the global call for action to protect our planet and its most marginalized communities. From my experience, DAML works best when it is being used in support of building solutions which bring together multiple participants who are focused on solving complex problems. This is why we were thrilled when one of our ledger partners -- global leader in infrastructure and digital workspace technology -- VMware asked us to partner with them in supporting the Odyssey Hackathon. Odyssey brings together individuals and teams focused on providing a new space where everyone (and everything) can become part of a solution to a 21st-century challenge. It will be hosted April 3-6 in the Netherlands.
At DA, I'm tasked with helping clients utilize DAML and our other tools to solve all types of problems facing global commerce, whether that be how to process a loan application or track the food and beverage supply chain. As I continue to reflect on how we can use DAML to expedite innovation, it feels like exactly the right time to collaborate with leading institutions in using smart contract and blockchain technology to create solutions tied to the UN's Sustainable Development Goals. I believe DAML is uniquely positioned to "achieve a better and more sustainable future for all" by ultimately facilitating global problem solving for an increasingly digital world.
Together with VMware and my teammates at Digital Asset, we are supporting two key challenges at the hackathon focused on outcompeting destructive systems: Plastic Pollution to Upcycling Economy and Consumer and Organization Driven Decarbonization. For individuals and teams interested in winning the Odyssey Hackathon with us by applying blockchain technology towards a more peaceful and prosperous planet, reach out to us at community@digitalasset.com to be notified when you can submit your team and for support along the way. We look forward to using innovative technology to tackle these important challenges together!