Daml + Forma: Automatically Deploy and Operate Synchronized DLT Workflows
WorldSibu collaborates with Digital Asset to bring a multi-cloud automated infrastructure experience to Daml-driven solutions.
WorldSibu continues to expand the reach of Forma, the blockchain infrastructure automation platform, with the recent partnership with Digital Asset, the creators of the open source smart contract language, Daml.
This partnership will bring a wider adoption to Daml as now companies will be able to, with just 3 clicks, quickly wrap-up a cost-efficient development environment to build and collaborate. After that, leveraging the existing and future compute-environment and blockchain framework integrations in Forma, automatically deploy and operate multi-cloud infrastructure in minutes (Hyperledger Fabric in Microsoft Azure, IBM Cloud, Google Cloud, AWS, Digital Ocean, and bare-metal Kubernetes).
Daml is a pluggable smart contracting language and runtime that helps to abstract and automate synchronized complex workflows between multiple parties. It integrates with multiple ledger technologies such as VMware Blockchain, Hyperledger Fabric, Hyperledger Sawtooth, R3 Corda, AWS Aurora, and others.
"Daml has become the smart contract language of choice for developing multi-party applications without lock-in to a single platform. Now, with the addition of support from WorldSibu's Forma, clients will be able to quickly deploy Daml applications to multiple clouds, further increasing portability," said Dan O'Prey, CMO and Head of Community Growth at Digital Asset.
Daml integrates with multiple ledger technologies, Forma deploys it to any ledger technology in any infrastructure available.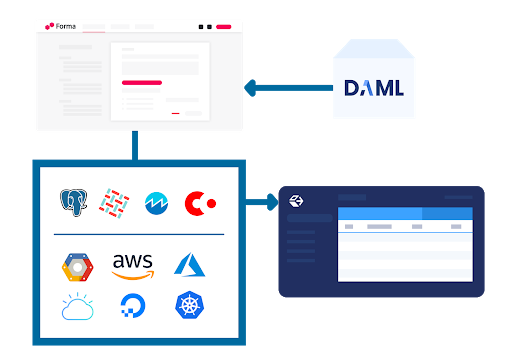 With this recent move, WorldSibu reinforces its vision to help the world adopt Distributed Ledger Technologies in the enterprise. Convector continues to have all the support from WorldSibu and will soon welcome Daml as a new option for companies all around the world.
"Digital Asset and Daml share our vision of more efficient and productive industries. Distributed Ledger Technologies are the natural evolution of silo-based systems, and partnerships like this one send a clear message to the market," said Walter Montes, co-founder and CEO of WorldSibu.
Taking advantage of the best from Forma and Daml, an extensive roadmap of powerful integrations is on its way.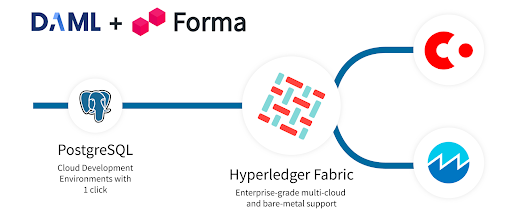 The first stage will bring Daml + PostgreSQL to the cloud for enterprises to evaluate the technology, create POCs, and design the business without worrying about which ledger technology to use.
In the future, Forma will enable software engineers to easily deploy to Hyperledger Fabric in all the cloud providers it supports already. And then to Hyperledger Sawtooth, Corda, and others. This will turn the decision of which ledger to use for your Daml-driven application into a matter of a click of a button.
Are you interested? We want to talk to companies interested in Daml that want to shape how these integrations look like or that want to know as soon as we release them. Sign up here to get a limited early access!