How to Optimize the Complex Workflows Across the Insurance Value Chain with Daml and Blockchain
As the insurance industry continues through this period of radical change, the path towards digitization can be challenging with numerous options spanning AI, blockchain, IoT, smart contracts and more. In this guest blog, Rajesh Dhuddu, Head of Blockchain Competency, Tech Mahindra, explains some of the challenges and how blockchain with Daml smart contracts can alleviate some of these pressures for insurers, creating the most optimal environment across the insurance value chain, ultimately enhancing the customer experience.
It all starts with a complex network of intermediaries
Insurance companies take products and services to market through a complex network of intermediaries, i.e. brokers, agents, affinity partners, clearing houses and several others. The intermediaries sell policies, collect or facilitate insurance premiums and provide various services to the end customer on behalf of the insurance companies. The management of business placed by intermediaries is very complex, involving multiple systems and workflows across the functions of pricing and underwriting, claims processing, reinsurance, investigation units, and vendor management.
Followed by numerous workflows across multiple disparate systems
These workflows and associated systems provide limited visibility, inaccurate data, involve extensive manual processing, high reconciliation costs between various parties and often lead to lengthy settlement times. While these inefficiencies cause delays in managing the policy life cycle, they also present an opportunity to improve the efficiency by adopting new technologies such as Daml, a multi-party application platform, and blockchain.
Leading us to a solution built around blockchain and Daml
With blockchain and Daml, insurers can increase efficiency of new insurance product distribution across intermediary networks, efficiently manage the intermediary book of business, and also manage various other services like claims processing and settlement more efficiently.
Tech Mahindra has partnered with Digital Asset to create a broker insurance solution and platform that can be easily integrated into the existing IT ecosystem of an insurance company.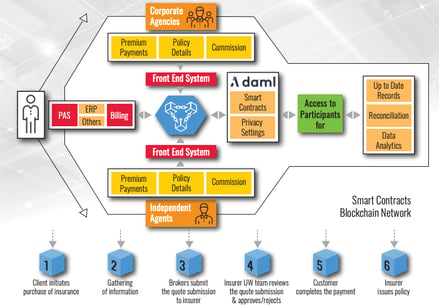 The platform addresses the following challenges for broker placed insurance:
Inefficient and costly new policyholder onboarding processes
Manual data sharing with compliance risk between parties
Limited insight into real-time data for pricing and policy quotes
This Daml-driven solution will help insurers manage broker placed insurance efficiently, automate the onboarding experience, and manage complex pricing approval workflows for standard and non-standard insurance products.