HKEX is teaming up with Digital Asset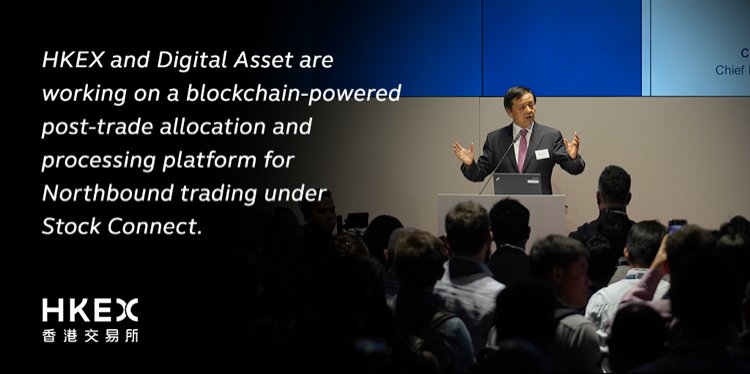 In a speech opening Hong Kong Fintech Week, Charles Li, the Chief Executive of Hong Kong Exchanges and Clearing Limited (HKEX), announced its partnership with Digital Asset. This follows the successful completion of a prototype solution for Stock Connect that used the Digital Asset Platform and smart contract modeling language, called DAML, to accelerate the post-trade process and reduce settlement risk.
HKEX will now work with Digital Asset to engage market participants and gather production requirements for a post-trade allocation and settlement initiation platform for the Northbound Stock Connect program.
Describing the Fintech-Enabled Strategic Vision for the Exchange, Mr. Li underlined that blockchain, or Distributed Ledger Technology (DLT), could alleviate the post-trade operational challenges faced by HKEX's market participants and global investors that trade China-listed A-shares via Stock Connect due to the tight settlement cycle for Mainland China trades.
"HKEX is looking at blockchain to help power post-trade allocation and processing for Northbound trades under Stock Connect. We are working with @digitalassetcom, an experienced partner in distributed ledger technology."
-- @HKEXGroup via Twitter
HKEX developed a prototype solution in collaboration with Digital Asset and market participants. The project explored how DLT could enable HKEX market participants to specify settlement workflows in advance – helping to bridge time zones – while enabling real-time synchronization of post-trade status between asset managers, brokers, custodians and the Hong Kong Securities Clearing Company Limited, HKEX's clearing house.
During his speech, Mr. Li shared the following message with those assembled for the opening to Hong Kong FinTech Week, "[HKEX] will now be working together with Digital Asset to introduce the first blockchain platform for financial services in Hong Kong. This could be the beginning of a long journey of innovation and revolution and we're very excited to share this important milestone."

For more information about Digital Asset, please visit digitalasset.com